Brooklyn Borough President Candidate Robert Cornegy Meets with Boro Park Leaders and Store Owners
By Yehudit Garmaise

Today, just before City Councilman Robert Cornegy, Jr., who is currently the frontrunner in the race for Brooklyn Borough President, met with leaders in Flatbush, he spoke with BoroPark24 to lay out why and how he is an ally to the Orthodox Jewish community.
First and foremost, as the father of six children, all of whom had widely different educational needs, Mr. Cornegy said he is supportive of parents' diverse choices for their children's education.
"Does your belief in parents' choice extend to Jewish parents who want to choose the curricula, texts, and the language of instruction that they feel is most appropriate for their children?" BoroPark24 asked.
"That is 100% parents' choice," Councilman Cornegy said. "I have a lot of friends in the Jewish community who went through the yeshiva system, who have achieved high levels of success: whether as businessmen, attorneys, or doctors."
As the father of six, Mr. Cornegy, the city's council's chairman of housing and building, also understands the need for lower cost houses that provide larger units to accommodate larger families in New York City.
"In the city, space comes at a premium," said the city councilman, who said that he thinks that the $100 million in the Borough President's capital fund, plus, land use and zoning opportunities can be used for more development in Brooklyn. "I am pro-development in a fair and just way."
The son of a reverend, Mr. Cornegy said that he had, not only "a very religious upbringing," but also training in what he calls "servant leadership."
"As a family, religion informed our thoughts and actions, but we were also taught, 'to whom much is given, much is expected," he said. "We were expected to give back to the community and deliver in any ways we possibly could.
"Although I didn't follow in my father's footsteps as a preacher, my family lovingly tells me that my ministry is in the streets, as I create policies and legislation that increase the quality of life for Brooklynites."
Public safety, for instance is a number one priority in Mr. Cornegy's vision for the future of the borough.
"In the 36th district, where crime is high: shootings are up 200%, I don't have the luxury of being a de-funder or an abolisher of the police," he said. "I made a commitment to ensure that the members of my community are as safe as they can possibly be."
Before entering political life in 2013, Mr. Cornegy played basketball in Colombia, France, Turkey, and Spain. In Israel, he played on the Maccabi team in Petach Tikvah.
"At the New York City Council, we have a push toward worker cooperatives, which I first experienced in Israel, while living on a kibbutz in Petach Tikvah. I loved the cooperative spirit because as an athlete, working in synch is very much how we win," he said.
Standing at nearly 7 feet tall, the city councilman for Bed-Stuy, and parts of Willamsburg and Crown Heights, said he was responsible for picking fruit and vegetables, "probably because of my height," he said with a laugh.
Not only is Mr. Cornegy the only candidate for borough president whose favorite food is hummus and who has both earned and spent shekels, but he also is the only Brooklyn borough president candidate who supports Israel and voted for the 2016 City Council resolution that condemned the Boycott, Divest, and Sanction (BDS), which passed in a 40 to 4 vote.
Furthermore, in 2020, when the Democratic Socialists of America (DSA) were determining whom to endorse, the far-left group asked City Council candidates, in a survey, whether they would visit Israel and whether they supported BDS. In response, Mr. Cornegy called the questions "offensive" and demanded that the DSA apologize.
From where does Councilman Cornegy's support for Israel come?
"When I was playing basketball in Israel, I admired my Israeli teammates who had to spend their off-time training in the military," he said. "My teammates told me they wanted to serve and were obligated to serve because of the daily threat to their homeland from enemies.
"We don't have that daily threat in America. I don't think people who talk about sanctioning Israel don't really understand Israelis and their level of commitment to their country and to their people."
Last Wednesday, Councilman Cornegy, who last year was the City Council's chairman of small business, showed his support for the neighborhood's small businesses, when he visited Mefo'ar Judaica, to discuss the hardships of the punishing lockdowns and the pointless citations of the last year with store owner Yanky Roth, who gifted the candidate for borough president with one of his special yarmulkas, which was custom-made with Cornegy's name and campaign logo.
Proudly wearing his kippa for the rest of his visit to the neighborhood, Mr. Cornegy stopped in at Gourmet Glatt Supermarket, to get a tour, to mingle with customers, and to buy some groceries.
In addition to supporting small businesses, Councilman Cornegy also wants to create many more jobs in Brooklyn.
"If we help every small business to hire one more employee, we could decrease unemployment about 50% in 10 years," said the candidate for Brooklyn borough president. "It is not that hard.
"We have to have relief for small businesses in grants and loans. We have to reduce the fines and fees that we levy. We are not going to write this city's budget deficit on the backs of small businesses."
Mr. Cornegy then walked down the street to eat lunch at Table 40, where over pizza and fries, the city councilman listened attentively and empathetically as owner Tuvia Roth shared the difficulties of that restaurateurs suffered in the past year, such as not being able to have many customers dine-in.
After making his rounds on 13th Avenue, Mr. Cornegy went on to meet with Boro Park leaders, who were very "very impressed" by the frontrunner, a community activist reported.
"The support among Jewish leaders for Mr. Cornegy is overwhelming because the choice for Brooklyn Borough President is clear," the Boro Park Jewish community leader said. "He is a friend."
"I have been a loud vocal ally of the Jewish community, and I will continue to do that," Mr. Cornegy said.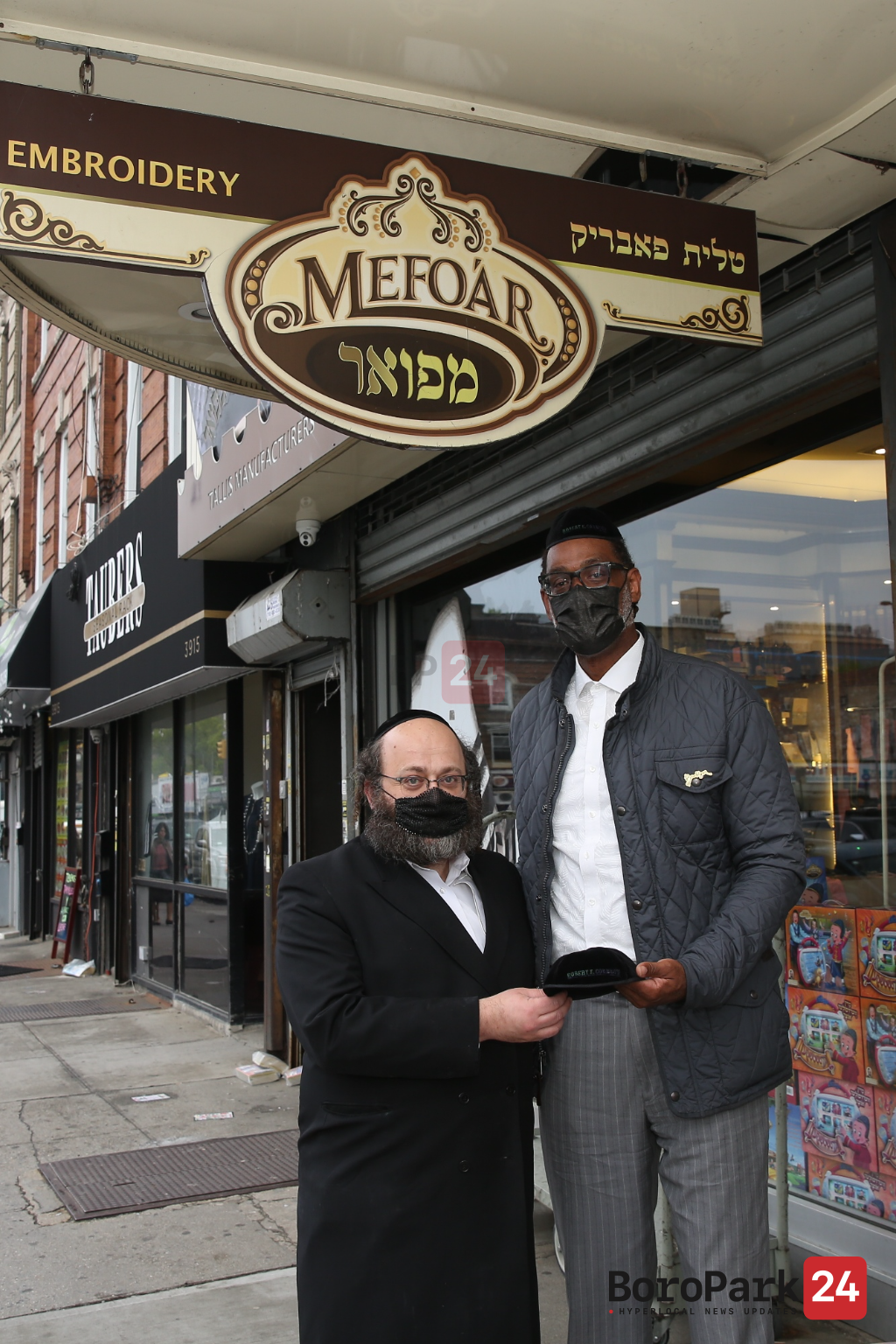 Subscribe
to get BoroPark24's email updates
Be in the know
receive BoroPark24's news & updates on whatsapp
Start Now