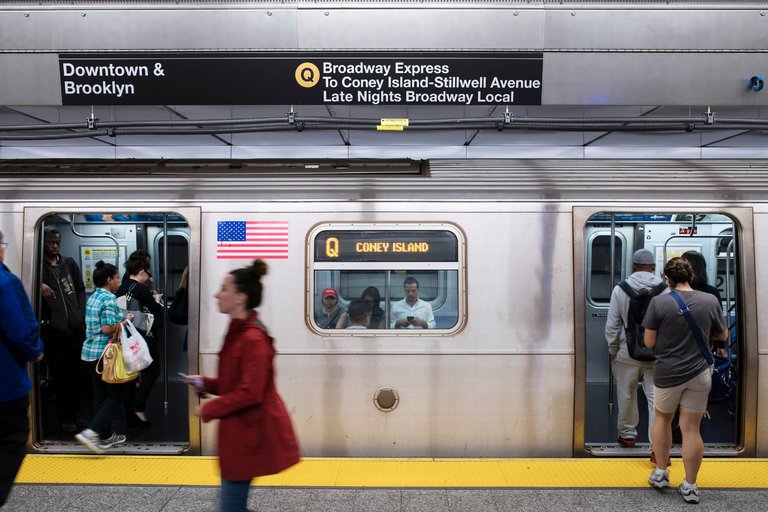 Your subway ride may soon sound different.
Travel on the subway today and you may hear singing, snoring, panhandling and  music, but you'll no longer hear the phrase "ladies and gentlemen."
At least, not from your conductor.
The Metropolitan Transportation Authority is replacing the phrase "ladies and gentlemen" in announcements with gender-neutral words in an effort to be more inclusive.
Instead you'll likely hear, "Good morning, everyone," or, "Hello, passengers."
It's just one of the changes to the conductors' script that started earlier this month.
Conductors will also now mention special events or days, like reminding riders to vote on Election Day or thanking a service member on Veterans Day. They can also point out landmarks and attractions, like the High Line, the Stonewall National Monument or the Apollo Theater at those stops.
Listen even closer and you may hear another change: Fewer automated announcements and more human voices.
This morning you may hear the train conductor say something like: "Good morning, riders. Let's keep the trains moving — walk all the way into the car, and please don't hold the doors open."
Or with today's soggy weather, conductors may warn: "Hello. Subway floors and station platforms may be slippery today. Be careful when you get on and off the train, or when taking the stairs."
Those examples were taken from a bulletin that was circulated to transportation employees this month. They are meant to be more human, more descriptive and "more empathetic to our customers' frustrations," according to the bulletin.
When something goes wrong, the M.T.A. wants conductors to give real-time updates with more information about what's going on — including how long you'll be stuck, if they know.
"We're completely changing the way we communicate with our customers," said Jon Weinstein, a spokesman for the M.T.A. "The basic language of New York City transit is changing. It's about speaking in a more human tone, giving our customers clearer, better information, and really talking to them like they're people."
By Jonathan Wolfe for the New York Times