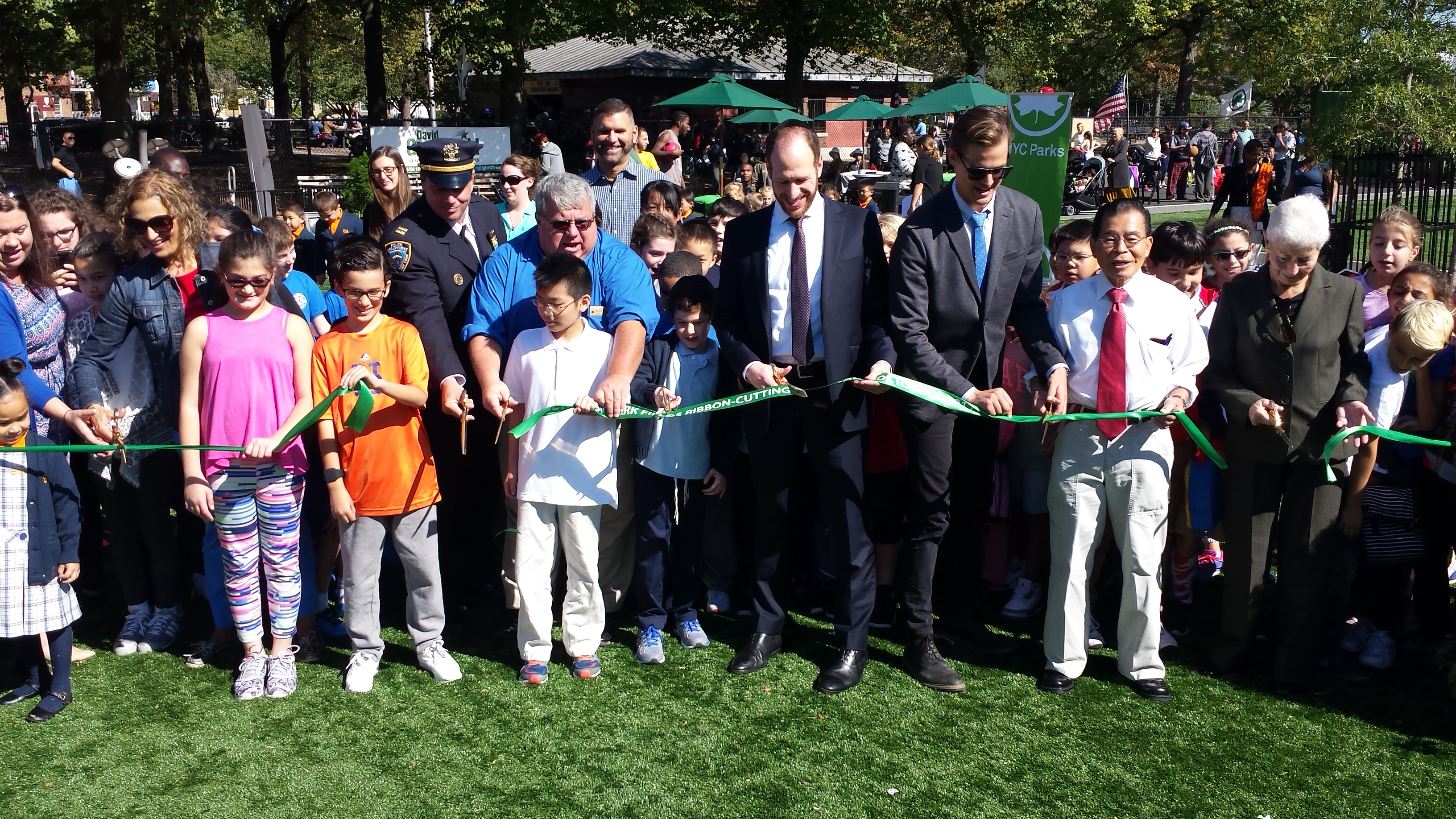 BROOKLYN — Councilman David G. Greenfield and Brooklyn Parks Commissioner Marty Maher cut the ribbon Wednesday on a $4.4 million renovation to Seth Low Park, located at Bay Parkway and 74th Street in Bensonhurst, Brooklyn.
The park, which was originally acquired by the city in 1924, now features improved paths and fields as well as beautiful landscaping. Greenfield funded the project as part of his office's $35 million commitment to renovate all 13 parks in his district – the only Council Member to achieves this feat.
"This park is very centrally located. It's near a library, senior centers, and several schools," Greenfield said. "This park is on the edge of my district, but I promised that I would renovate every single park in my district. The reason I'm so committed to this is because everyone deserves a beautiful park for their quality of life. That's why I'm renovating all 13 parks and playground in my district."
Success Academy Principal Jonathan Dant, Seth Low Intermediate School Principal Erin Lynch, the Academy of Talented Scholars Principal Josephine Sportella-Giusto, and Brooklyn School of Inquiry Assistant Principal Anna Moshura all attended, and over a hundred of their students were on hand to cheer for the new park.
Greenfield has given those school children, and their parents, quite a bit to cheer for in the past year. This spring, he announced that voters in his district had selected to fund a new $500,000 Science, Technology, Math, and Engineering Lab at the Brooklyn School of Inquiry and the Academy of Talented Scholars. Additionally, while negotiating the year's budget, he secured over $500,000 for a new backyard play area for Seth Low Intermediate School.
"Better parks mean better quality of life, not just for children but for everyone who lives in this community," Greenfield said.