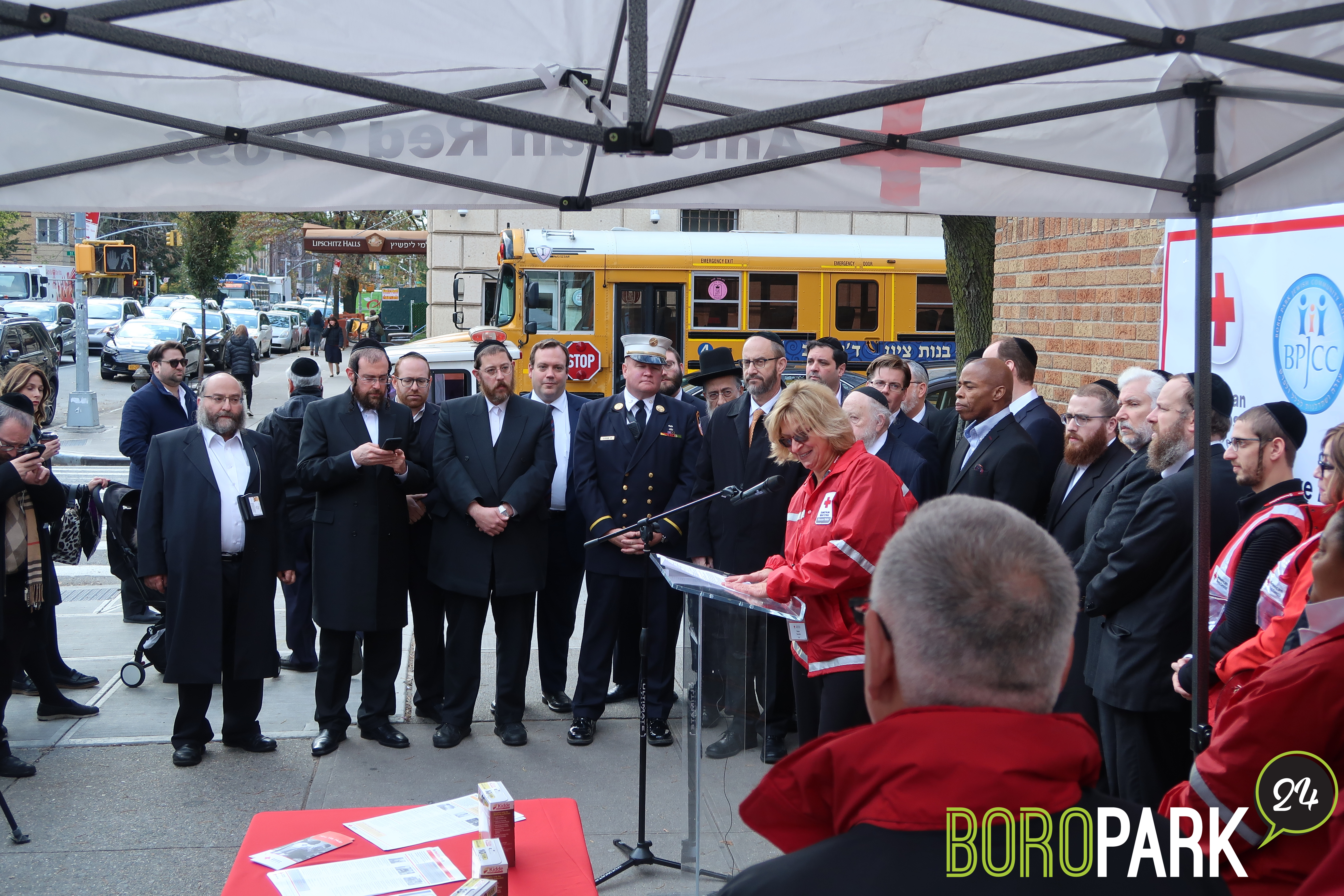 On Wednesday afternoon, November 8, the American Red Cross and the Boro Park Jewish Community Center came together to announce a new fire safety and emergency preparedness partnership to help save lives in Brooklyn. These new initiatives came about after a string of fires in Boro Park that resulted in the tragic loss of lives, homes, and property.
The Red Cross set up a tent where locals were able to register for free smoke detectors installed by volunteers, and home safety evaluations. The risk of fire is much greater in the winter when heaters, stoves, and boilers are more in use. Helpful literature was distributed to educate the public about fire prevention and safety.
Rabbi Avi Greenstein, BPJCC Executive Director of the BPJCC, introduced the event and addressed the crowd about the importance of the initiative.
American Red Cross New York Regional CEO Rosie Taravella, Councilman David Greenfeld, Council-elect Kalman Yeger, Senator Simcha Felder and Community Advocate Yidel Perlstein and other community leaders came to talk to the crowds and press and show support for BPJCC's and the Red Cross's new project.
"We need to take precautionary actions… Long after flames stop smoking, the devastation is pervasive among the entire community…" said Brooklyn Boro President Eric Adams.
"This program goes a long way in helping us do our job, I would love to say that smoke detectors would put us out of a job, but they won't; they will help us do our job. It is only through the strong support of the JCC, red cross, boro council that we can get this initiative started" said Joseph Duggan Jr, Chief of Battalion 48.
About the American Red Cross:
The American Red Cross shelters, feeds and provides emotional support to victims of disasters; supplies about 40 percent of the nation's blood; teaches skills that save lives; provides international humanitarian aid; and supports military members and their families. The Red Cross is a not-for-profit organization that depends on volunteers and the generosity of the American public to perform its mission. For more information, please visit redcross.org or visit us on Twitter at @RedCrossNY.
About the BPJCC:
The Boro Park Jewish Community Council (BPJCC) meets urgent social services needs of individuals and families residing in Boro Park. To that end, the BPJCC presently operates a wide array of social services and programs to assist clients in obtaining government benefits and entitlements with the dual goal of providing immediate relief and simultaneously directing them towards a path of self-sufficiency and independence. For more information, please visit bpjcc.org or visit us on Twitter at @bpjcc.