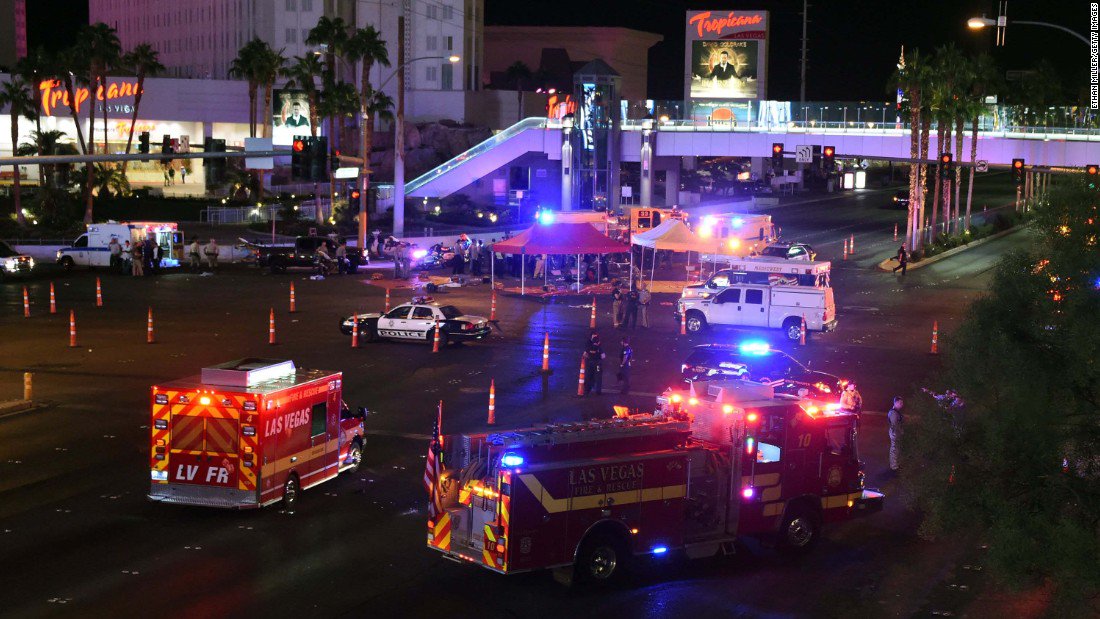 A lone gunman released a rapid-fire barrage of bullets from the 32nd floor of a Las Vegas hotel late Sunday, killing at least 58 people and injuring more than 500 others attending a country music festival below, officials said. It was the worst mass shooting in modern American history.
"We heard what sounded like firecrackers going off. Then all of a sudden we heard what sounded like a machine gun. People started screaming that they were hit," witness Meghan Kearney told MSNBC. "When we started running out, there were probably a couple hundred [people] on the ground."
She added: "People kept dropping and dropping … People were getting shot one foot away from us. People were trying to save their friends. There were gunshots everywhere. Helping them would've meant that we got shot, too."
Here is the Latest from NBC News
58 people were killed, more than 500 injured in the deadliest mass shooting in modern American history.
Gunman identified as Stephen Paddock, a 64-year-old man from Mesquite, Nevada.
At least 10 weapons were found inside Paddock's room at the Mandalay Bay Resort and Casino.
President Trump, who will visit Las Vegas on Wednesday, called the shooting "an act of pure evil."
www.nbcnews.com
________________________
What to Do If You Are In the Middle of An Active Shooting
Most people will not be caught in an active shooting, but it is still important to know what to do in advance so if the situation ever arises, you are mentally prepared with a plan of action. Thinking, "it's never going to happen to me" does not mean that it's never going to happen to you. The best advice? Your parents'. They tell you to stay away from protests, roped off areas, and troublesome or unsupervised situations. LISTEN! If something is suspicious, just walk the other way.
Most people tend to freeze when something out of the ordinary happens because of normalcy bias, which is the tendency for people to believe everything follows a pattern and today will proceed like the days before. Therefore it is always important to be mindful of where you are, so if things don't follow their usual pattern, you will be prepared.
After the terror attacks in Paris and London, Britain has released a video entitled RUN, HIDE, TELL. It is advice from the Police on what to do if you are caught in an active shooting.
RUN
Whenever you are in an area with a lot of people (mall, concert, demonstrations,) take note of all the exits, including the ones for employees only. With all the craziness, this mindset should become your new normal. If a shooter opens fire, the first thing to do is RUN.  Your safest bet is not to run towards the main entrance/exit because that is where the attacker is expecting you to go. Get out through the little-used exits, away from the gunfire. If you are in an open area, try to run in zig zags as that makes it harder for the shooter to target you. Tell others to follow you but don't waste time convincing others or helping the wounded. Doing so will help no one and will most likely get you killed or injured as well.
HIDE
If you can't move to a safe area, then hide. A solid barrier will protect you. Lock yourself in a room and move away from the door. If possible, barricade yourself in with furniture, desks, tables or whatever is available.  Stay silent and make sure you turn your cell phone ringer and vibration off so that the shooter will not be able to locate you. If possible, call 911 and tell the police what's happening. If you can't talk, let the police hear what's going on.
TELL
Once you are safe, call the police. Tell them the location and how many attackers you have seen. The police will first take care of the attackers. Do everything the police tell you and keep your hands above your head when you run.
May Hashem protect us all.