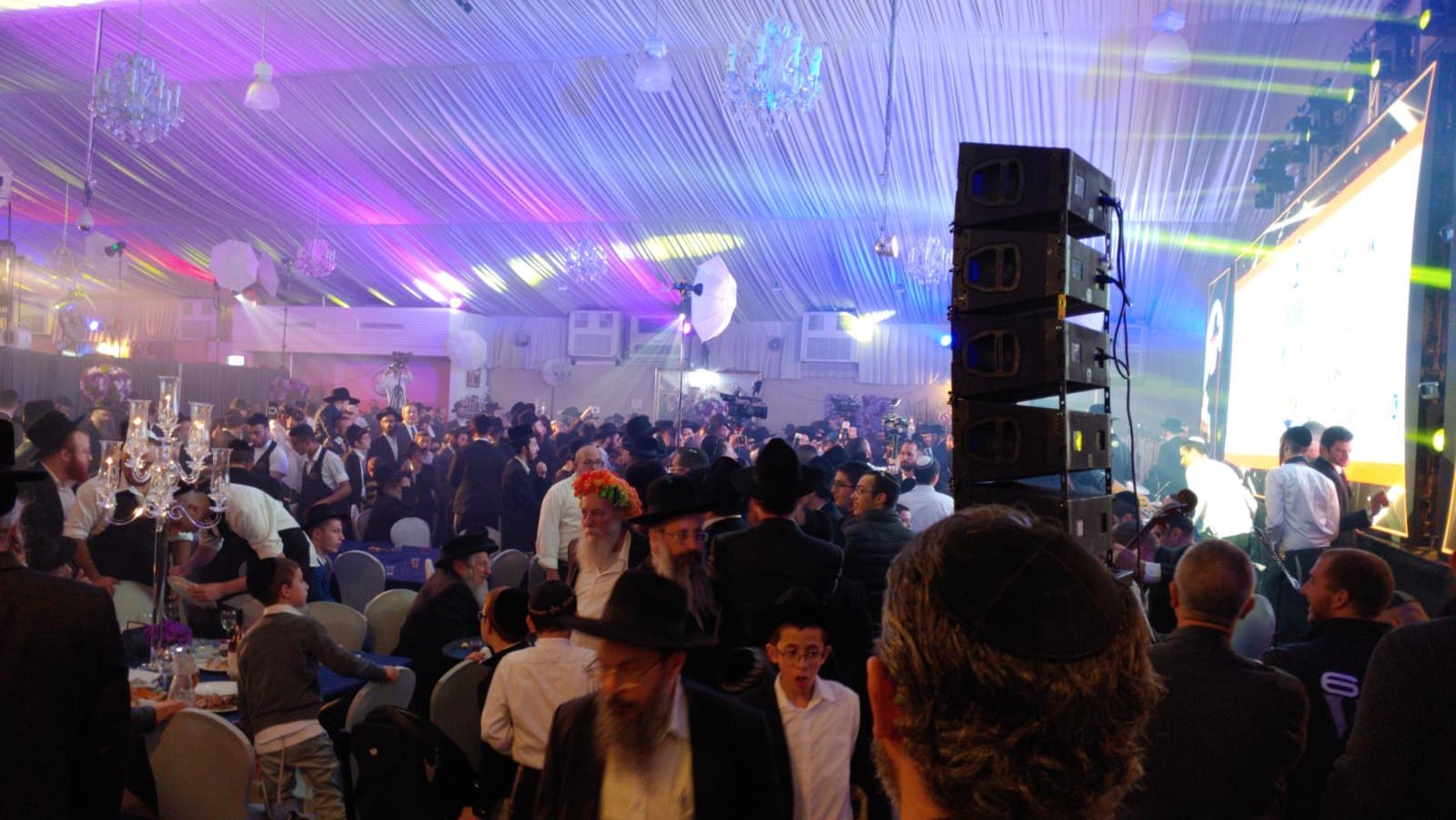 Kfar Chabad – Exactly eleven years after the Jewish world followed with horror the events taking place at a Chabad House in India, Jews around the world celebrated the bar mitzvah of the 2008 terrorist attack's sole survivor.
Moshe Tzvi Holtzberg, the son of the kedoshim, Rabbi Gabi and Rovka Holtzberg Hy"d, had his aliyah this past Shabbos in Afula, where he lives with his maternal grandparents. A gala party was held Sunday night in Kfar Chabad, with messages pouring in from presidents and prime ministers wishing him a happy life.
"Mazal tov on becoming a bar mitzvah," a letter signed by President and first lady Trump said, which was printed on a huge billboard and hung at the bar mitzvah hall. "We join your family and friends in celebrating this joyous occasion and send our best wishes as you mark this significant milestone. May your faith continue to guide, strengthen, and comfort you throughout your life."
Indian Prime Minister Narendra Modi also extended his well wishes. "As you make this important transition and cross a significant landmark in the journey of your life," wrote Modi, who met Moishela some years ago during a visit to Israel, "the courage of Sandra and prayers of the people of India will continue to bless you for a long, healthy and successful life. Your story continues to inspire everyone. It is one of miracle and hope overcoming tragedy and immeasurable loss."
Israeli Prime Minister Binyamin Netanyahu also sent a note of congratulations: "We know that there is life amidst this tragedy. There is revival and there is hope. You come now with the love of the entire Jewish people, all citizens of Israel and very many outside Israel."
The Holtzbergs had two children and were expecting a third when the Nariman Chabad House they established was attacked on Nov. 26, 2008, during a broader attack by Pakistani Islamists against Hindu India that killed nearly 200 people. Four other Jews in the center were also killed.
"Baby Moshe" became an instant worldwide hero when a photo of him being carried out by his Indian nanny, Sandra Samuel, was splashed on the front pages of newspapers around the world. He arrived in Israel several days later where he was brought up by his mother's parents, Rabbi Shimon and Yehudit Rosenberg.
In a tragic addendum to the story, Moishe's only surviving sibling, who had been living at an Israeli institution ever since he was born with the Tay-Sachs illness, died a month after the terrorist attacks.
Moishela, with his wide eyes and shy nature, became an Israeli sensation. His birthdays and progress is regularly featured in the press and his classroom was visited several times by Netanyahu to mark the beginning of the school year.