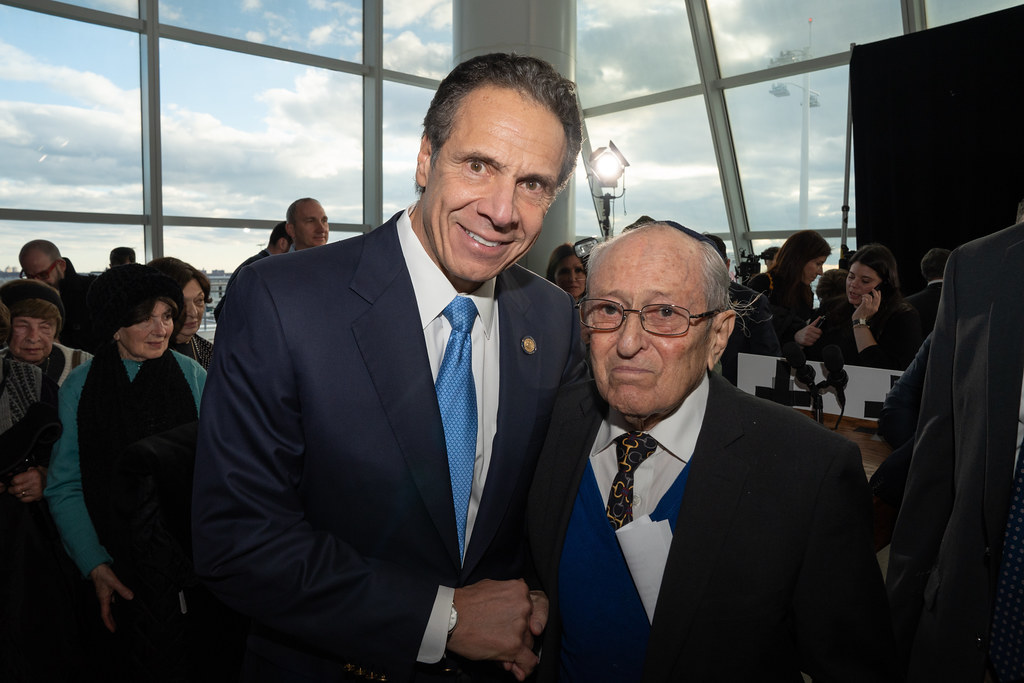 New York – Gov. Andrew Cuomo is flying to Poland for the official commemoration of the 75th anniversary of the liberation of Nazi concentration and extermination camp Auschwitz-Birkenau.
Cuomo, who held a press conference at JFK airport prior to his departure Sunday afternoon, said he is the only U.S. official who will be joining world leaders at the event on Monday. He was joined at the sendoff by Holocaust survivors and a liberator.
Cuomo said he will leave at Auschwitz a rock engraved with the words "New York State Remembers," as well as mementos from survivors, elected officials and Jewish community leaders, to let the world know that New York never forgets the atrocities.
"I want to make one thing clear to the Jewish community here in New York State and around the world: We remember," Cuomo said at the event, which was also attended by Agudah leader Rabbi Chaim Dovid Zwiebel. "This state will never forget the Nazi atrocities that were perpetrated against the Jews, and as we confront a growing cancer of hate and intolerance against the Jewish community, this trip will serve as a reminder of our shared New York values against intolerance and division."
Displayed at the press conference was the Alfred Kantor Sketchbook — a book containing drawings of the machinery and inner workings of Auschwitz, drawn by a prisoner of the camp who smuggled paper and pencil to capture these images. The book is on loan from the Museum of Jewish Heritage, where it was gifted by Alfred Kantor, who immigrated to the United States and worked and lived in Bayside, Queens for many years.
Also on display at the press conference was the trumpet played by Louis Bannet in Auschwitz. Bannet was a well-known jazz musician in the Netherlands who was sent to Auschwitz, where he was forced to play the trumpet until his departure. The trumpet is also on loan from the Museum of Jewish Heritage.
The Democratic governor was joined by eleven Auschwitz survivors, as well as Al Moskin, a concentration camp liberator.
Betty Migdol, one of the survivors, brought along a photo of her family in a Displaced Persons Camp.