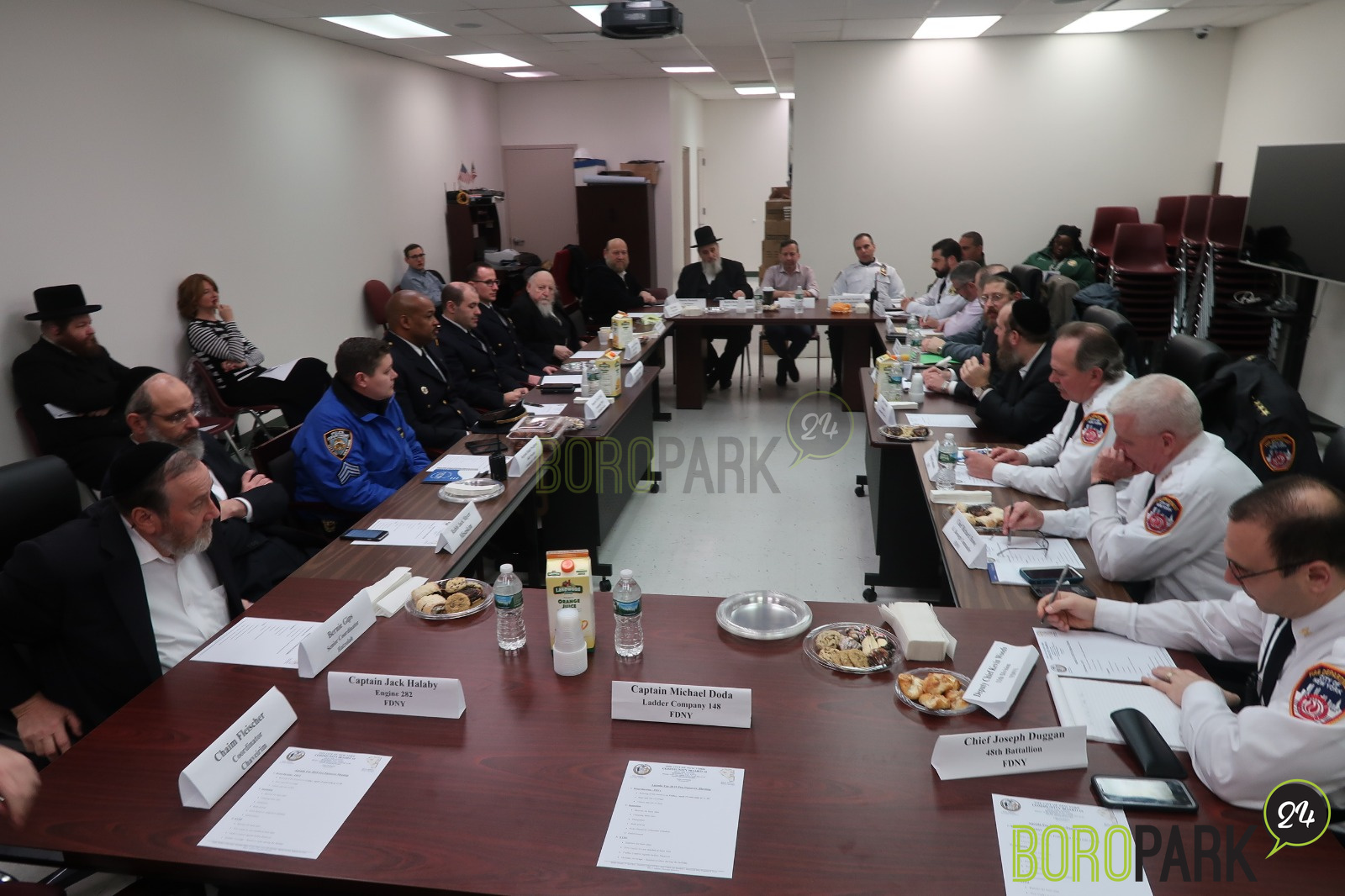 Boro Park, Brooklyn – Following a yearly tradition, Community Board 12 met last week with New York City's Fire, Sanitation and Police Departments, along with community leaders, community organizations and elected officials, to go over plans in anticipation of the upcoming Pesach Holiday.
These meetings serve to facilitate the coordination of added city services to accommodate the unique needs Pesach brings, as well as the best means to inform the community about these services. The agenda this year focused on: the services provided to clean up our community before the holiday, ensuring the community is safe throughout the holiday and a strategy to lessen the inevitable frustration encountered in the pre-holiday traffic. The agenda also focused on the special sanitation pickups scheduled, the bread burning and sanitation container locations, and most importantly, the protocols to follow in order to avoid any serious injuries resulting from Sreifas Chometz.
"I am very proud of the progress made in the way we work out Sreifas Chometz in this district. This year we are building on the success and improvement of previous years. I'm confident that with the coordinated effort of the City of New York and volunteer organizations, we will once again, increase the safety and cleanliness of our district this Pesach season. Our community organizations relieve some of the burden placed on the NYPD, FDNY and DSNY so these organizations can devote all their energy solely on the efficient delivery of vital services to our community. This coordinated effort is the perfect example of a harmonious governmentcommunity relationship working towards the common goal of bettering our community" said Community Board 12 Chairman Yidel Perlstein. "I would like to thank the community leaders and city officials for applying their unique perspectives to this effort" added Perlstein.
"I would like to thank all the city agencies, organizations and elected officials for taking time out of their demanding schedules to participate in this meeting. It is only thanks to the combined efforts of all who gather at these meetings that Erev Pesach has become a day that the community can safely engage in the hectic concerns common with Seder preparations. I especially would like to commend the FDNY, the NYPD and the DSNY who expressed their desire that the community celebrate a joyous and worry-free holiday in the knowledge that every effort will be taken to accommodate the unique needs it brings. These agencies devote countless hours and resources towards this goal. A special thanks to our partners in the Shomrim,
Hatzolah, Chaveirim, Misaskim and other organizations who serve a vital role in keeping everyone safe," said District Manager Barry Spitzer.
"Pesach is another opportunity for New York City to show how much it values our community," said Councilman Kalman Yeger. "The Fire Department helps us perform Sreifas Chometz safely and respectfully, the Police Department provides extra personnel to keep us secure, and the Sanitation Department helps us clean for Pesach efficiently. I'm grateful to District Manager Spitzer, Chairman Perlstein and all of Community Board 12 for ensuring that the City provides these services to help make Yom Tov preparations a bit easier."
Leading the FDNY delegation was Brooklyn Borough Commander, Chief Wayne Cartwright; Staten Island Borough Commander, Chief Richard Howe; Division 8 Commander, Chief Brian Gorman; Joining them from the Department of Sanitation was Assistant Chief Andrew Pugliese; Deputy Chief Richard Ferraro; BK12 Superintendent Michal Aiosa; BK12 Supervisor John Venditti; Community Affairs Liaison Teresa Cunningham; Lieutenant Paul Taranto, Sanitation Police; Joining them from the New York Police Department was The 66th Precinct's Commanding Officer, Inspector David Wall; The 66th precinct Executive Officer, Captain Robert Dantone; The 66th precinct Special Operations Lieutenant, Lieutenant Matthew Divito; Community Affairs Sergeant, Ralph Postiglione and Community Affairs Officer Thomas Kukla. Also in attendance was Gabi Friedlander from Councilman Brad Lander's office, Yosef Segal from Councilman Kalman Yeger's office and Mr. Joseph Langsam from Senator Simcha Felder's office. Representing the organizations who lead the coordination and safety of the events was Motty Katz, Sam Follman and Yiddy Rosman Coordinators of Shomrim, Bernie Gips Coordinator of Hatzolah and Chaim Fleischer Coordinator of Chaveirim, who is in-charge of planning and site selection. Additionally, taking a lead role on security arrangements was Rabbi Jack Mayer, founder of Misaskim. Rabbi Edgar Gluck and Rabbi Berish Freilich, Senior Community Liaisons, were also in attendance.
Following is some important information from the items that were discussed at the meeting: Bread Burning Schedule: Some changes were made this year in response to feedback and observations received from last year's bread burning. This year the fires will be done at the designated locations directly on the ground and not in containers like last year. The fires will be completely fenced off by barriers. No one should go beyond the barriers. The perimeter will be strictly enforced by the Shomrim and NYPD. Once the deadline for bread burning has passed, FDNY will put out the fires. DSNY will then collect and dispose the remains and also clean the sites. Bread burning will occur on Friday, April 19th. All bread burning must be completed by 11:35 am. For the safety of our community, the Fire Department will strictly enforce this 11:35 deadline.
Please adhere to the following simple rules to ensure the safety of our loved ones during this holiday and make collections easier and faster.
Only Chometz Gamor should be burned, as required. Household trash that is not actual Chometz should be disposed of as regular trash. DSNY has extra collections for this trash before Pesach.
We have seen people throw all types of garbage into the fire in previous years. This is not required, and contributes to larger than necessary fires that increase the risk of injury. DO NOT throw any flammable or combustible items into the fire, including paint thinners, aerosol cans, sprays, lighter fluid, any liquid that is used to ignite the fire or any other flammable liquid. Do not throw bottles, both glass and plastic, into the fire. This is extremely dangerous. In the past there have been some serious accidents resulting from improper disposal of such items in the fire. Do not throw Chometz enclosed in silver foil into the fire. Water or fire extinguishers should be readily available at the site of the bread burning.
A complete list of approved fire sites is attached with this press release. The fire sites will be supervised by volunteers from Shomrim and Chaveirim; please follow their instructions.
Please be advised that the Police and Fire Departments will absolutely not allow any unsanctioned fires, neither on the streets nor in dumpsters. The Police and Fire Departments will be on the lookout for any of these fires and will extinguish them immediately. We are asking the community to please be considerate and take into account the hard work and great expense it took to set this up and cooperate fully with this system.
Sanitation Pickup Schedule: There will be a district-wide recycling pickup Bedikas Chometz night, April 18th. The pickup will start at 12 am and continue through the night. There will be district-wide regular pickup on Erev Pesach, April 19th, starting from 6:00 am throughout the day, until all trash is collected. Residents are asked to put out all their trash by Thursday night. Recycling must be separated from the regular trash, not doing so may result in the garbage not being picked up. Should someone have a missed pickup please do not hesitate to call our office at 718-851-0800.
Additional sanitation trucks are being brought in for the entire week before Pesach to help the Sanitation Department clear all the additional garbage that is put out. DSNY will begin collecting bulk items from now through Erev Pesach, Friday, April 19th. DSNY is asking anyone with bulk items to put it out for collection as early as possible. Large electrical appliances can get collected by DSNY, but an appointment must be made with 311 or visiting nyc.gov/dsny. Placing large electrical appliances for pickup without an appointment will result in a fine. As an added benefit, the Sanitation Department will be cleaning certain major commercial strips in the district, every night this week from 12:00am to 8:00am, using MLPs (Motor Litter Patrols) and heavy duty blowers.
Sanitation Enforcement cautioned that all bulk items and cardboard boxes should be tied up and placed out neatly. All mattresses and box springs must be entirely wrapped, preferably in a store bought bed bug bag or in plastic. If a mattress or box spring is placed out without being wrapped, Sanitation will not collect them and a fine may be issued. Try to leave driveways clear so that Sanitation workers can retrieve bulk and/or garbage quickly and efficiently. Please do not double park cars. At all times, regular garbage must be separated from recyclables and put out in proper fashion.
Sanitation will provide dumpsters at designated sites for additional garbage drop-off. A list of these container locations and burn sites is being published along with this press release.
Community Safety: As they do on every major holiday, the NYPD will be deploying additional resources to ensure the community's safety. Shomer Shabbos on 53rd Street and 13th Avenue and Veretzky (Landau's Shul) on Avenue L and East 9th Street will have round-the-clock police coverage starting at 7:30 pm on Friday Erev Yom Tov till 10:00 pm Sunday night and from 7:30 pm Thursday Erev Shevii Shel Pesach till 10:00 pm Motzei Yom Tov. Please feel free to approach these police officers with any issues.