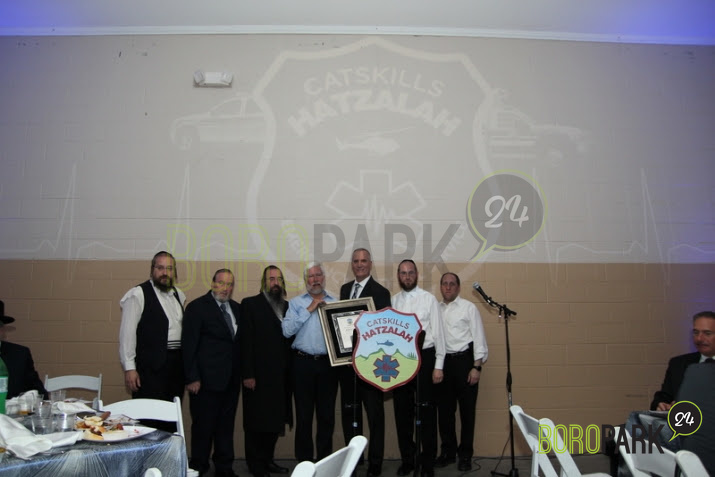 South Fallsburg – The Catskills Hatzalah held its annual appreciation dinner on Monday for emergency personnel with whom they work throughout the year.
The event, which was held at the Catskills Hatzalah Headquarters on South Fallsburg's Brickman Road, was attended by dozens of officials representing all local, county and state agencies. These include the New York State Police, Sullivan County Sheriff's department, Ulster County Sherriff's department, the state Department of Environmental Conservation, local police, Forest Rangers, the NYC Department of Environmental Protection police, Sullivan County District Attorney, Ulster County DA, local fire departments, local EMS personnel, "Medevac Lifenet-75," and local hospitals.
Isaac Stern, the president of Central Hatzalah, opened the event and spoke about how Hatzalah operates and the thousands of calls they get throughout the year.
State Police Superintendent Keith Corlett was the guest of honor. Following a presentation to the Superintendent, he addressed the gathering, and highlighted the importance of first responders and the void that Hatzalah fills.
Corlett discussed the importance of law enforcement working closely with the community, noting that when he was a trooper he had been the assigned liaison to the Jewish community. He praised the Jewish community's liaisons who work closely with law enforcement agencies, such as Joel Gold and Simcha Bernath.
Also receiving an award was retiring State Police Maj. Pierce Gallagher of Troop F who worked closely with the Jewish community the past few years.
Michael Spiegel, the owner of Eagle Nest, received an award for allowing Hatzalah to put up a new radio tower to help the Communications on Route 17.
Boruch Gips, the coordinator for the Catskills Hatzalah, closed the event with remarks thanking his partners Yidel Feig, Yomtov Malik and Eli Serebrowski.
Following the event, many of the attendees passed through the dispatching room at the Catskills Hatzalah Headquarters, many of them more than 100 miles away in Brooklyn. They were impressed at the speed from when the call is received by Hatzalah until the members arrive on the scene and by the advanced technology that the dispatch system utilizes.
Hatzalah operates year round in the Catskills.